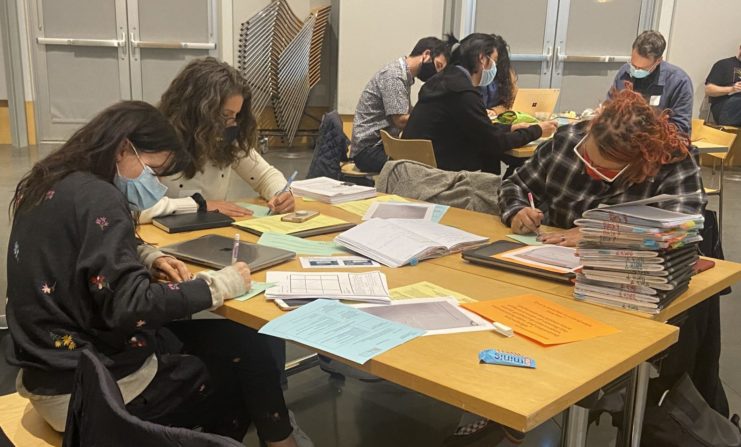 Data is not a 4 – Letter Word!
When we begin a new partnership we always like to ask about the system's current relationship to and mindset around data. This 4 letter word – data – can bring up so many emotions in our teachers and leaders. Depending on experience, data has been used to rank, sort, and weaponize students and teachers. At Lead by Learning, we like to push back against that data narrative and expand our partner's definition of data beyond attendance, test scores, and dashboards to also include student voice, experience, and artifacts as a way to humanize and partner with students and teachers. 
At Lead by Learning one of our core, habitual practices is attending closely to the experiences of individual learners. Attending to the "street data" that is always at our fingertips or in front of our gaze is not only something that we can do habitually and often, but it can also point us to next steps and a way forward. 
Our partner teachers are attending to street data when they ask students, "How did you feel while working with your small group today?" or "What was hardest for you about this learning task?" Our teacher leaders are attending to street data when they notice the kinds of questions their colleagues are asking each other about student learning and how many of their colleagues consistently bring student work to the table. Our partner principals are attending to street data when they check in with teachers to ask, "How are you doing? What support do you need from me today?" 
The 2021-22 school year has been one for the books, but this hasn't stopped our leaders and teachers from gathering and learning from a variety of street data: 
"Students' questioning (their wonderings) related to warm up problems in math"

"Sentences of students' writing, particularly elaboration sentences in poetry analysis"

"

More videos and writing samples"

"Student conversations and videos of table teams sharing their writing"

"Writing samples from daily writing practice"

"Recording of at least two students exchanging ideas about how to solve a math problem"

"

Survey results and focal student interviews about lesson and class experience" 

"

Amount of talk time per student"

"Claim – evidence – reasoning (CER) paragraphs in science, exit tickets, student self-reflection"

"Flipgrid videos to record my students' practice logs"

"​Learning Partnership Conversations with focal students about their experience with the recent lessons and what made them push through or what have they learned"
By honoring "street data" as a reliable, authentic means of understanding student learning and experience to inform our next steps, we give ourselves the grace needed to adapt to this challenging time and hold ourselves accountable to our shared goals for learning.
Looking for ways to get started with Street Data? Hear from our partner teachers and Lead Facilitators:
Published in 2021, Street Data: A Next-Generation Model for Equity, Pedagogy, and School Transformation, co-authored by Shane Safir and Jamila Dugan, includes a chapter written by former Lead by Learning Executive Director Carrie Wilson about integrating our key practice of Public Learning with street data during professional learning and collaboration time.