Donate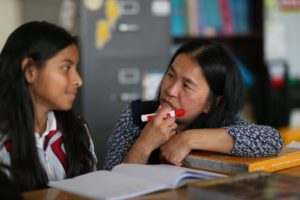 Welcome to the #LeadbyLearningGiving where donors, advocates, and champions like you come together to make a difference for a school community, educators, and students.
This year you can support a school's professional learning through a gift to our sponsor a school fund.
Heading into the 2023-24 school year, school budgets are shifting and the funding schools received following the Covid-19 pandemic is coming to a close.  Faced with making hard budget decisions, many of our Bay Area partners–Oakland Unified School District, West Contra Costa Unified School District, and San Leandro Unified School District–are seeking co-funding to continue leveraging professional learning services to improve educator collaboration and student outcomes.
No matter the amount you give, your gift will directly provide partnership services in the 2023-24 school year to support educators' learning and professional growth.
More than that, when you participate as a champion of inquiry and learning, you inspire others to give.
DONATE TODAY