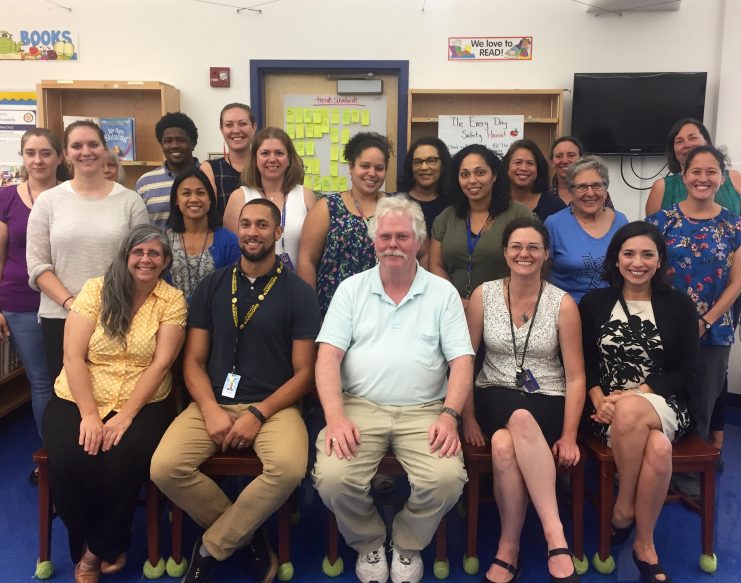 Public Learning in WCCUSD
Building teams of public adult learners  is a central component to developing cultures of continuous improvement in West Contra Costa USD. At each Mills Teacher Scholars inquiry session, a teacher volunteer publicly shares their thinking, questions, and student learning data. The public learner plays a central role in creating the conditions for authentic teacher learning, engaging teachers' curiosity and fostering collective teacher efficacy.
At Montalvin Elementary in West Contra Costa Unified, Mills Teacher Scholars is partnering with teachers to align their understandings of instructional strategies that support academic language development. Montalvin's principal, Katherine Acosta-Verprauskus, engages in improvement work alongside her teaching staff, focusing her inquiry on a focal group of third-grade students to further support their growth in academic language.
Public learners are a key part of the collaborative inquiry process. As part of Montalvin's school-wide inquiry focus into supporting language development, Gary, a first-year teacher, is trying to understand how to better support his English Language Learners (ELLs) in solving word problems. At a recent inquiry session, Gary shares a video of himself working on a math problem with a focal student.
Gary: "Do you think you would be able to use an addition sentence or a multiplication sentence to get the same answer?"
Student (confused:) "What's an addition sentence? Like letters?"
Gary (after some reteaching): "Now I'm going to challenge you. Do you think you could do a multiplication sentence?"
With Gary's patient coaching, the student is able to write the multiplication sentence and solve the problem in three different ways.
In our inquiry protocol, teachers are not only asked to articulate where there there is room for further growth, but, importantly, they are asked to name the assets the student is bringing. What does she know? Gary's colleagues note the student's assets around using symbolic representation to solve the problem, sharing when she is confused, and persisting through struggle. They also pose questions that help Gary reflect on what next steps would support his student's comprehension of word problems. The video is a reminder of how important it is to share impactful practices across grade levels and to give students the opportunity to spiral back to strategies and academic vocabulary that need reinforcement in order to be fully internalized. With such structures in place, even a first-year teacher like Gary can feel comfortable sharing the uncertainties inherent in teaching with the goal of understanding how best to support his students' learning going forward. 
Last month we featured West Contra Costa Unified's Verde Elementary School and their ongoing collaborative inquiry into best instructional practices in balanced literacy.
Want to learn more?
Join us for our day-long workshop for administrators, coaches, and teacher leaders on Creating the Conditions for Adult Learning, February 6th, 9:00-3:00 at Mills College.