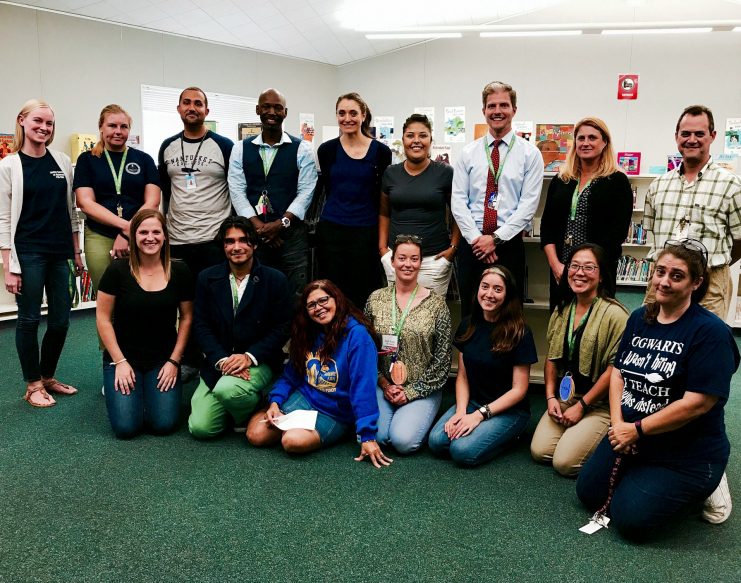 Collaborative Inquiry Drives Improvement in WCCUSD
Verde Elementary
Like many elementary school teachers, the teachers at Verde Elementary in WCCUSD are using balanced literacy to build students' reading comprehension skills. What is different about the approach of the teachers at Verde is that they are working in partnership with Mills Teacher Scholars to use collaborative inquiry to understand the effectiveness of instructional practices as a way to improve learning opportunities for their students.
At each Mills Teacher Scholars inquiry session a teacher volunteer serves as the "public learner," a teacher or staff member who is willing to publicly share their thinking, their questions, and their student learning data. This core element of the Mills Teacher Scholars approach to collaborative inquiry plays a central role in creating the conditions for authentic teacher learning and building collective teacher efficacy. This happens because:
When teachers are willing to share their uncertainties, their unfolding thinking, and their imperfect student data it sets the tone for everybody in the group to do the same.
It provides a common text for teacher scholars to practice data analysis and ask probing questions of their colleagues.
It is a powerful way for teachers to understand what is happening for students outside of their own classrooms and to build shared understandings around common trends in student thinking and learning at all levels of development.
Merrill as the Public Learner
Mills Teacher Scholars facilitator, Pilar Beccar-Varela, has recently visited Merrill Pierce's fourth-grade classroom at Verde Elementary to support Merrill's data collection. She has video recorded Merrill's students choosing their independent reading books, and Merrill is now seeing the video for the first time along with her colleagues at their November inquiry session. Merrill chose to focus her inquiry on independent reading because it is an instructional strategy that is routine, foundational, and takes a significant amount of classroom time.
Merrill is the "public learner" in the group this month, sharing her inquiry focus and data with the Verde team. In focusing on supporting students' independent reading, her first question is around identifying what her kids are really doing during independent reading while she is with a small group doing Guided Reading. All teachers at Verde, in their first year of inquiry work with Mills Teacher Scholars, are using inquiry to support their balanced literacy instruction. The components of balanced literacy such as Guided Reading, Phonemic Awareness, and Readers' and Writers' Workshop offer the teachers a wide range of classroom-based data, including reading assessments, student writing, and video. Merrill's video data clearly shows that her students are in very different places in their understanding of how to make good book choices.
What the Video Data Reveals
A group of fourth-grade boys sits in the library area panning through books, sorting them based on their covers. The ones that don't make the cut get piled up in a tower until they fall over. A few select books make it to the second stage and the boys flip through the pages, too quickly to actually read any text.
Another student comes to the library and begins to look through one particular book bin.
"How do you choose books?" Pilar asks her.
"Sometimes there is a series I like and I look for those," the student answers. "If not, I just find a book and I….I just look at the cover and then see if I like it or not; and sometimes I read the back and it helps me see what the book is going to be about; and sometimes I will take a few books to my desk that I like and I will read one or two pages and see if it's my type of book."
After talking through with colleagues what the video data surfaces and clarifying her goals, Merrill decides that she needs to come back to the book selection strategies she introduced at the beginning of the year in order to reinforce these for all of her students. She knows that book selection is key to her larger learning goal of supporting independent reading. Once she re-teaches these strategies, she will collect a new round of student data to see if it has made any difference. Through discussing her video, colleagues have a chance to glimpse inside Merrill's classroom and get to know her focal students. They can also privately consider implications for their own instruction of independent book choice at their particular grade level.
At Verde Elementary, Mills Teacher Scholars' collaborative inquiry is helping staff calibrate their ideas about balanced literacy, aligning their understandings across grade levels and identifying instructional strategies that support student growth. Public learners are a key part of the process.
Stay tuned for our January newsletter to hear what is happening at Verde's neighboring school, Montalvin Elementary.