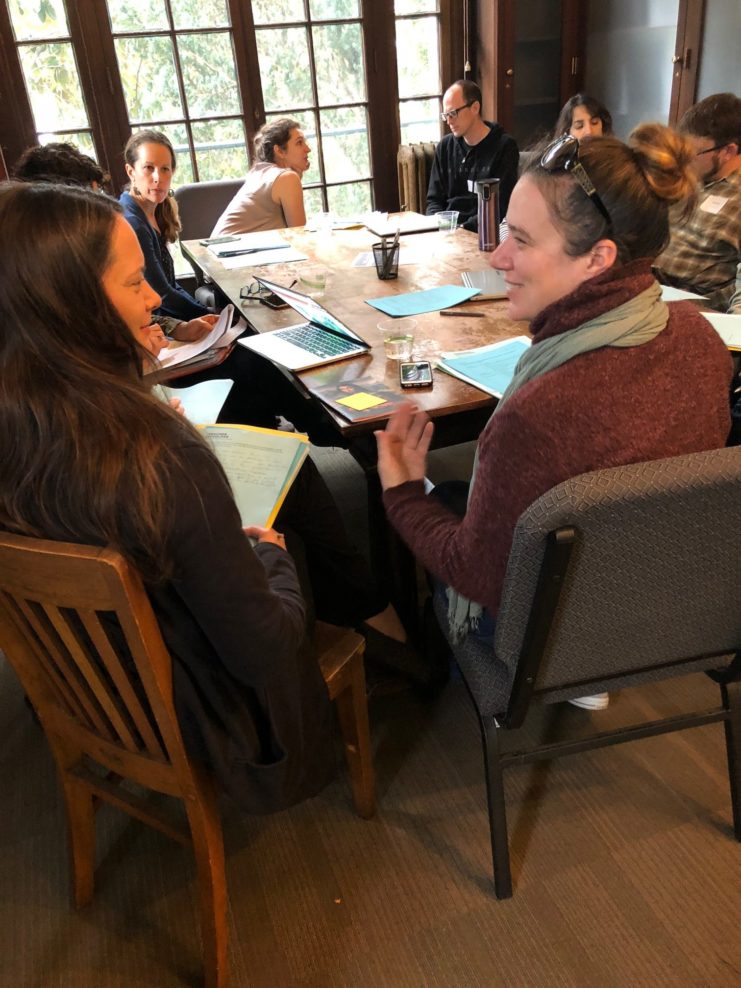 The Magic in the Mindset: Spotlight on our Coaching Inquiry Network
Registration for the 2018-19 Coaching Inquiry Network is now open! If you have questions about which of our courses would be the best fit for you, email us at teacherscholars@mills.edu.
In 2017-18, Amelia Rosenman of the California Academy of Sciences and Fleur McJilton of San Lorenzo Unified School District engaged in inquiry into their coaching practice through the Mills Teacher Scholars Coaching Inquiry Network. In four day-long sessions throughout the year, they came together with other coaches to better understand the current reality of teacher learning at their sites and to develop their vision and a plan for improvement. They reflected on their experience in an interview with Mills Teacher Scholars' Director of Programs, Daniela Mantilla.
 Why did you decide to sign up for the Coaching Inquiry Network?
AR: I've been a fan of inquiry and Mills Teacher Scholars for a few years. I had come to a few of your events and been so inspired by the work you and your teacher scholars were doing. I wanted my teams to have experience doing inquiry themselves, and we had started our own little mini inquiry groups here at Cal Academy. The Coaching Inquiry Network allowed us to have the experience of being coached ourselves, which then allowed us to infuse that knowledge into our own programs for teachers.
FM: One of the schools I support is Lorenzo Manor Elementary, which is also one of the sites where the whole staff is participating in the Mills Teacher Scholars inquiry cycle. Ashley Thomsak, a fellow coach, and I thought the Coaching Inquiry Network would be a great opportunity to work together to learn how we could better support Lorenzo Manor as leaders.
What did you appreciate most about the Coaching Inquiry Network?
AR: I loved what you said about how when you support teacher learning conversations, the magic isn't in the protocol, but in the mindset, and in understanding how we create the conditions for that mindset to develop, like the idea of the public learner. We've been working with a group of teacher leaders this year and we borrowed that language, which really helped us shift. There was this real expectation within their group, and especially from the leader of the group, that they would be the "experts" in leading their school sites in applying the new science standards. Working with Mills Teacher Scholars and the Coaching Inquiry Network helped me reframe that expectation for them, away from simply providing expertise and toward creating the conditions for others to develop their own expertise. It is a much more inviting – and important – kind of leadership.
FM: One of the things that I appreciated the most was the fact that I was able to focus on a very specific inquiry project, which for me was helping teachers to support their English Learners. I tend to focus very globally, so the Coaching Inquiry Network really helped me to focus in on what I needed to do and where I could have the biggest influence. It helped me to see the opportunities for little shifts as opposed to just huge tasks.
Which frameworks or ideas felt most useful to you?
AR: "Routine expertise" and "adaptive expertise" were new terms for us and we are using them constantly now in our team. It really gave language to an idea that we had already been germinating. When we use the language of coaching stances, like instructive vs. facilitative, we now have a way to talk about the outcomes of those different stances. So by staying in the instructive coaching stance, you can help someone develop routine expertise, but you can never get them to adaptive expertise because that requires a different kind of reflection. I loved thinking about how both are important, but the same coaching process can't get you to both.
Also the "creative tension" framework – I am shocked by how many times I've used that in very different places. I used it just last week. I was recently coaching a teacher who was trying to develop a workshop about the future of our cities. I said, "Oh it sounds like your workshop focuses a lot on the future. What if you also spent some of the workshop getting clear about the current reality of our cities?"  We've also used it to help that same group of teacher leaders I mentioned earlier. They were imagining that all of their classrooms were fully-realized Next Generation Science Standards classrooms, and they came up with a really good brainstorm about what those learning spaces will look and sound like when the standards are fully implemented. But then we gave them permission to think about what they look and sound like right now. There was almost a palpable relief in the room. They were like, "Oh, we can be honest about what it really is and not just think about these ideals!" We helped them see that both the honesty and the idealism are important in figuring out how to get from here to where you want to go.
What did it feel like to be a part of a network of coaches and leaders of adult learning?
FM: I know that in order to see progress and implement what I've learned, I need both time and support. In the Network meetings, from the lead facilitators, and in our phone check-ins in between the meetings, I got continuous, consistent coaching that I would have really missed without the Network. The phone check-ins especially helped keep me accountable with collecting my data and moving forward with my work in between Network meetings, so that I could come to those meetings prepared and get the most out of the time we had together. Knowing that I was going to be able to get feedback from people outside of my district, with similar roles but different experiences and perspectives, made me really motivated to come prepared so that I could fully engage in and take advantage of the work.
AR: It's such a pleasure to be in a room with people who are trying to learn the same kind of things we are trying to learn. I liked how diverse the group was in terms of roles. Different people had different types of expertise and you all did a great job of building in opportunities for us to draw on each others' funds of knowledge. Each time I met with my triad, where we all had really different contexts and roles, they helped me get out of my bubble. In our daily work we are a team of four and it's very easy for us to think alike and talk alike and reinforce each other's ideas. So it was great to be with people who could challenge some of that thinking.
Amelia Rosenman is a member of the teacher professional development team at the California Academy of Sciences. She supports Kindergarten through 12th-grade teachers to develop their science knowledge and pedagogy through workshops and coaching, in both short- and long-term relationships with schools and districts. Fleur McJilton is a language and literacy instructional coach with San Lorenzo Unified. She supports teachers and school leaders to implement best practices in the service of improving student outcomes.
Registration for the 2018-19 Coaching Inquiry Network is now open! If you have questions about which of our courses would be the best fit for you, email us at teacherscholars@mills.edu.