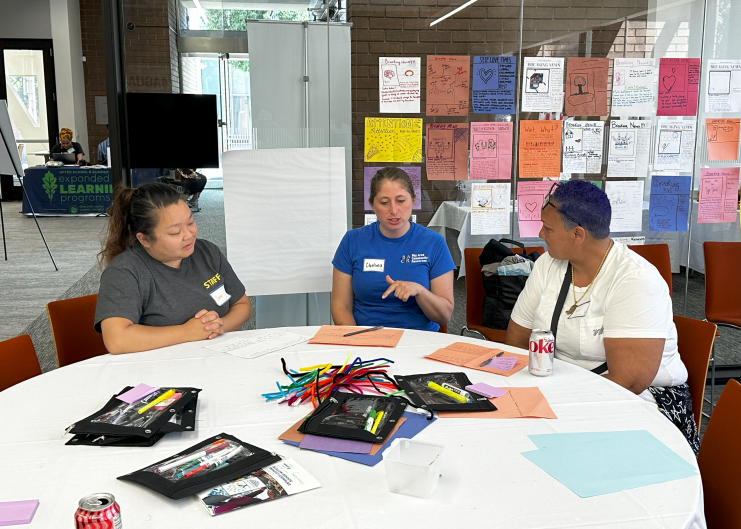 "Tending our Roots: Cultivating Joy" OUSD Expanded Learning Office Summer Institute
This summer Oakland Unified School District's Expanded Learning Office brought together Site Coordinators and Agency Directors for their annual Summer Institute. This year's theme is "Tending our Roots: Cultivating Joy." Lead by Learning supported the OUSD Expanded Learning Office to engage afterschool and district partners to build community, align practices, and ensure program quality.
While learning is individual, transformation is collective, and transformation requires learning.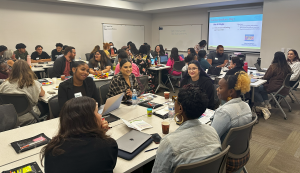 New OUSD Site Coordinators come together for their orientation to kick off the school year! Throughout the day they had opportunities to build community, make sense of their role and responsibilities in partnership with others and get excited for the work ahead.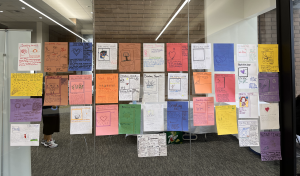 "Extra, Extra! Be who you needed when growing up!" Day 1's Warm Welcome invited participants to create newspaper headlines that represent what brought them to this work. They explored their "WHY" and represented it through words and pictures. One headline reads, "I support my community because it has been the foundation of who I am. In order for it to thrive, I feel we should all invest in our youth because they are our future."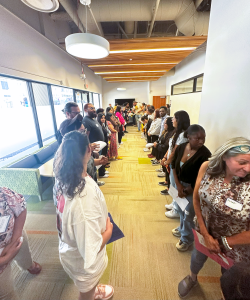 With a jam-packed agenda over the course of 4 days, the OUSD Expanded Learning Office made sure participants had many opportunities to move around and connect with each other.  This was a soul train line to share their headlines with each other. Opportunities for movement, joy, and collaboration are essential in creating powerful adult learning spaces.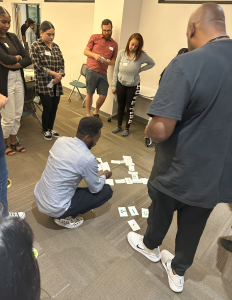 Site Coordinators manage a variety of responsibilities in their role, so they were given time to think about how all of the pieces of their role connect.  The activity, using notecards, was intended to emphasize the importance of tending to all aspects of the work to create healthy programs for students.
While participants were brainstorming ideas for alignment between school day and after-school programming, Lead by Learning Director of Programs, Malia Tayabas-Kim, provided thought partnership for a Site Coordinator.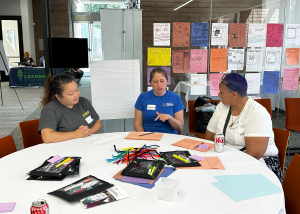 With Site Coordinators at 83 School Sites in OUSD, Participants were encouraged to share their expertise and get ideas from each other to make their afterschool vision a reality.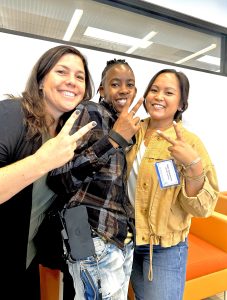 Partnership expands beyond districts. OUSD's Expanded Learning Office invited another Lead by Learning Partner from Vallejo's Expanded Learning Team to be in the community with them and spark ideas to bring back to her team of Site Coordinators. In the photo above from left to right, Brooklyn Joseph, a Lead Facilitator at Lead by Learning, Renee Collins, an Assistant Manager for Vallejo Expanded Learning, and Malia Tayabas-Kim are all smiles at the end of a long, but productive day!
Interested in learning more about how Lead by Learning supports systems change  through building cultures of adult learning, reach out to Senior Director Sugar Sugarman at s.sugarman@northeastern.edu. Our work with the Oakland Unified Expanded Learning Office began in 2018 and its impact is captured in our case study.