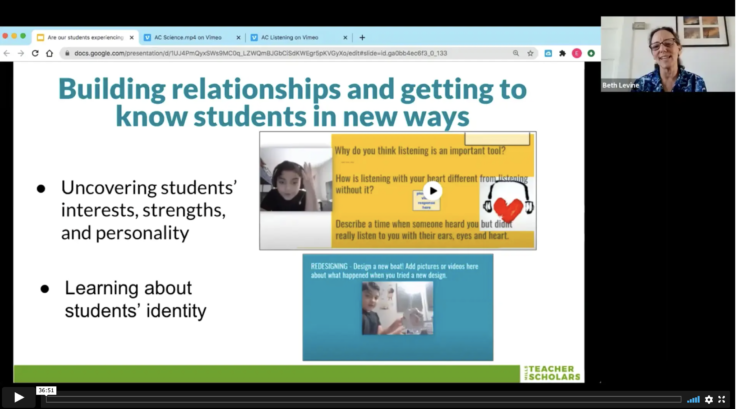 Sitting down with Beth & Luz
For teachers everywhere our worlds have been turned upside down. We are used to gathering data about what our students know and don't know yet through listening to conversations, having quick chats before or after class, and even looking over their shoulders while they are working. As we settle in and embrace both the new opportunities and challenges of distance learning, understanding our student's experiences is crucial. But the big question is: How? 
Beth Levine, an elementary teacher in West Contra Costa Unified School District shared with us during our webinar about the power of student voice through video and audio recordings. She has been lifting up the interface SeeSaw in order to really hear her student's thinking in all subjects from reading to math to science. 
Luz Nunez, a high school history teacher also in West Contra Costa Unified School District, found her orientation towards data shifting during this time. Data she may have glanced over in the past has become pivotal. She is also adding a social emotional strand to her data collection to build her student's agency to let her know what they are understanding and struggling with.
If you missed our webinar, a free recording is found here on our website. 
Many of you had more questions after the webinar, so we followed up with Luz and Beth to learn more.
What's been the biggest surprise for you as you've been trying to understand students' learning experience (in the context of remote learning)?
Luz: "The biggest surprise, at least from a high school perspective, is how much the social interactions of high school impact students and their ability to learn. I have a lot of students comment that even though they miss their friends and teachers, they enjoy not having the pressures of high school drama and that without it they can focus on their work."
Beth: "I've been surprised by two things.  (1) How students have taken to talking on the microphone. They are quite willing to express what they're thinking about, to share whatever they're doing (math explanations, reading, and their thinking about these topics). That's surprising to me because I didn't think they would sit there and talk to a screen.  (2) How students' willingness to talk  really helps me to develop and maintain a connection to them just through the recording. Through recordings I can stay current and up to date with what they're thinking when we're not in person."
Both of you mentioned using video / audio data to understand your student's learning, How hard is it to get/process/view the recordings from the tech tools you use?
Beth: "There are multiple educational technology tools now that allow students to respond through video and microphone. FlipGrid, SeeSaw, Padlet, etc. This was an example using SeeSaw, which is an easy platform to use, but the capability is not limited to SeeSaw."
Luz: "For student video recordings, I use Flipgrid and it's very easy to use for both teachers and students. They can record from their laptop or their phone with their free app. As far as recording videos for students' lessons, I have found that Loom is the easiest one for me to record and post quick videos of my lessons."
As your and our definition of "data" expands, how have your practices adapted during this time. Did you stop doing something based on the data you received? 
Luz: "I stopped trying to rush to the next thing, the reality is that I will not get to finish all the content I would in a typical school year. Since I have accepted that I can then focus on the skills that the data tells me students need."
Beth: "If I stopped doing anything, it's that I'm going more for quality responses rather than volume of each response. How much time things are taking is hard to judge- especially in distance learning. So now I am thinking about how to develop a more thorough response. This affects the kinds of questions I'm asking. In addition to using  sentence frames, I'm trying to go for more open-ended questions. This is something I've experimented with since the webinar." 
It is unclear for everyone how long we will be in distance learning or a hybrid model, but we do know one day we will be back in physical classrooms together (or so we hope!). What technology tools do you plan to continue using once we go back in person?
Luz: "All of them! All of the tech tools I'm learning how to use can be used for distance learning as well as in-person learning. Many of these tools are tools I've always wanted to learn how to use but never had the time. Now I'm having to learn quickly how to use them and I'm glad I have so many tools at my disposal when we return. I plan to continue using tech tools to help me gather data, and not just academic data but also social-emotional data."
Beth: "We'll continue using SeeSaw or some other platform that allows for recording and video response because presentation and speaking is such an important skill, and this is a way for students to more authentically practice. It is hard to do whole class presentations or monitor partner talk presentations, which of course will still be included, but this will be something that reinforces that practice. By listening to students talk, I am seeing them develop their thinking. 
"Also, one of the silver linings of this time is that my conferencing and small group work is way better than it was in the classroom because there aren't other distractions (interruptions, redirecting students who are working independently during this time, etc.). I've learned what it feels like to truly focus on small groups. I'd like to bring the focus that I'm having now in breakout rooms to a small group and conference situation in the classroom. This is more of an inquiry when I go back. Because I'm really seeing the power of those small groups and how necessary it is to meet the needs of students where they're at."
Using Data to make the Learner's Experience Visible
At Lead by Learning we believe in using data to make our learner's experience visible. We embrace an expanded definition of data which includes traditional data such as grade and test scores but also student reflection, stories, recorded discussions, presentation, and work. Every moment we are with our students is an opportunity to learn from them and is a data harvesting opportunity to learn more about what students are thinking, doing, and feeling. By lifting the curtain on what students are thinking, teachers honor student's needs and shift instruction. Our students are so much more than a number and a black Zoom box.  Just like Beth and Luz are adapting and shifting their practice around data we would love to hear about your experience with data. 
How are you learning about your student's experiences? 

What new data are you leveraging to partner with students? 

What shifts in your practice and new learnings will you bring into your classroom when we return in person?