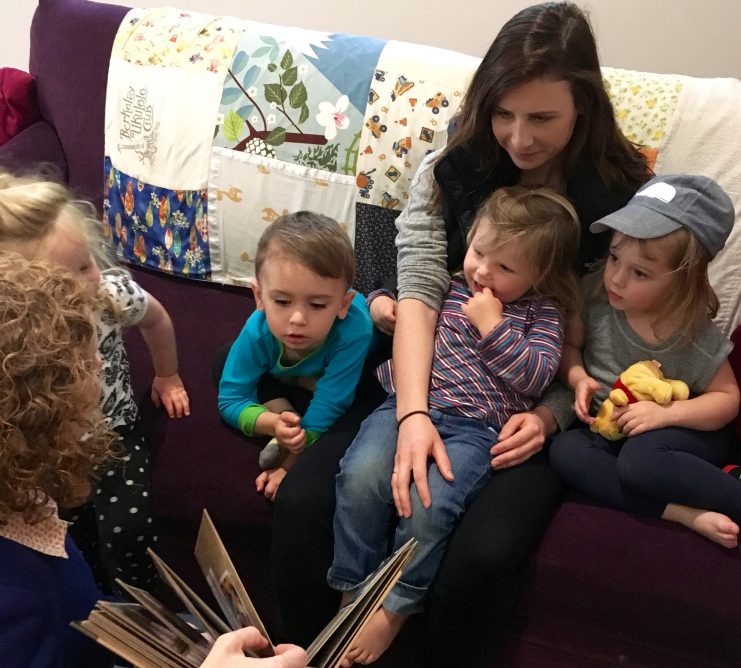 Supporting Student Teachers in Making Learning Visible
By Betsy Hedges
Going Beyond "Cute"
"Aw they're so cute!" and "What do you even teach babies?" are familiar responses I hear when explaining I am an infant/toddler teacher. I am usually quick to explain that ages zero to three are the most important years for human development that set the foundation for how children will learn and grow through life. Recently, though, my approach to explaining my work has felt a bit defensive. I have wished for another way to make visible the brilliance of infants' and toddlers' rapid growth. The opportunity to participate in Mills Teacher Scholars came at just the right time, as through the inquiry process I was able to critically think about how to highlight my young learners' discoveries, ideas, and play, turning my frustration into a source of inspiration for my own professional learning.
As the Infant/Toddler Head Teacher at the Mills College Children's School (MCCS), I have the unique experience of teaching both young children and the student teachers who work in my classroom. Knowing that many of my student teachers, however well-meaning, needed support viewing the young children in our classroom as more than "cute," I decided to focus my inquiry on developing their ability to make our students' learning visible to the MCCS community. My focal student teacher, Grace, who was pursuing a degree in Infant Mental Health, showed particular interest in challenging herself to identify key learning moments and transform her observations into a form of documentation that could be shared with children, families, and the MCCS community.
What Does it Take to Make Young Children's Learning Visible?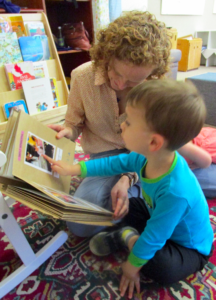 With the support of my colleagues and Mills Scholars facilitator during our monthly inquiry sessions, I developed three goals to guide student teachers in making the learning in our classroom visible. During team meetings with my student teachers, I implemented small exercises to help us explore methods of documenting and sharing children's learning moments.   
Understand the power of observation
Student teachers often feel that their role is to be "on" and interacting closely with the children. Though of course I encourage student teachers to be focused on the children in my classroom, I also want them to develop the ability to step back and observe children's interactions and play. To help my student teachers think about what to look for when observing a group of children, we discussed photographs of our children engrossed in classroom activities and I asked student teachers to explain why each photo represented unoccupied play, solitary play, onlooker play, parallel play, associative play, or cooperative play.  
Document learning moments
To further prepare my student teachers to think critically about the photos we take of the children as part of our regular practice of documenting learning, I challenged them to get beyond the idea that young children are "cute." I probed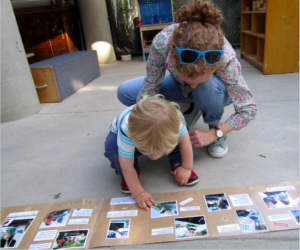 them to highlight the intentionality and story behind each photo they chose to take, asking them to draw upon descriptive language and developmental theory.  At one team meeting we discussed a photo of a student teacher, Halie, sitting with a group of three children. In the photo Halie helps Laura, a toddler, give a bottle of milk to Nina, the youngest baby in our class. Ginny, another toddler, watches nearby. The student teachers' conversation began as follows:
"It is a really cute picture. I always feel like it's my first inclination to say that. But from an education standpoint, you can also see how many other things are happening besides it being sweet. That Laura is helping… " 
"Ginny is also watching."
"Oh yeah, she is! I didn't notice that."
"I think the presence of a younger child in this room is very helpful for the older kids to develop caring."
"You can see the empathy, like how Laura is carefully holding Nina's head."
Head Teacher: "And look where Halie's hand is: She's modeling that kind of care. We do so much of that in this classroom. That's really how they learn."
Following this discussion, I asked student teachers to take more initiative in pinpointing and documenting learning moments they observed in the classroom. Two cameras were readily available for student teachers to use.
Share the documentation
My end goal was to provide my student teachers with the resources, tools and confidence to create thoughtful and meaningful documentation that could be shared with our school community. After exploring methods of observation and identifying how learning moments can be documented through photos, videos, and reflective practice, my focal student Grace focused her curriculum investigation project on "exploring worms" and used this assignment as an opportunity to create a documentation book for the children and families in our classroom.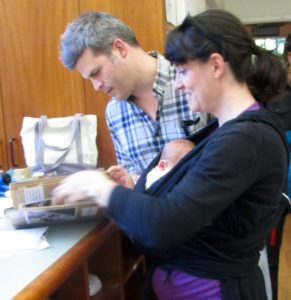 Grace's large accordion-style book includes photos of the children engaging in the experiences she created for them during her investigation. One side has captioned photos of the children exploring live worms brought into our classroom. On the other side is a worm puzzle she created on one of her curriculum days. The book is highly interactive and children often revisit it as a way to process their experiences and those of their peers. Families and teachers use it to learn about how each child experienced the worms at school. Grace's book allowed her to gain deeper understanding of how documentation can be a powerful learning tool for this age group. She reflected that observing the various ways in which the children interacted with her book brought her joy and confidence as a teacher in our classroom.
Inquiry Leads to Meaningful Change
The inquiry process allowed me the space and time to build upon my personal goals for my professional development. As many teachers can relate, it can be challenging to set aside time to deeply explore all the areas of interest in our work. This experience provided me with structured time to explore my questions through written reflection, discussions with large and small groups of colleagues, and one-on-one time with my Mills Teacher Scholars facilitator who acted as sounding-board and offered insight, feedback, and support with next steps.
The most meaningful aspect of my inquiry process was observing my student teachers after each documentation discussion. Their daily interactions with the children changed, as they practiced intentional observation and documentation and shared their thinking in weekly journals and team meetings. Their idea of "cute" transformed into the ability to critically reflect and name the learning and developmental theory that might apply to a captured moment. With their understanding of the necessary steps to implement meaningful documentation came enthusiasm for advocating and sharing infants' and toddlers' learning in an accessible way.