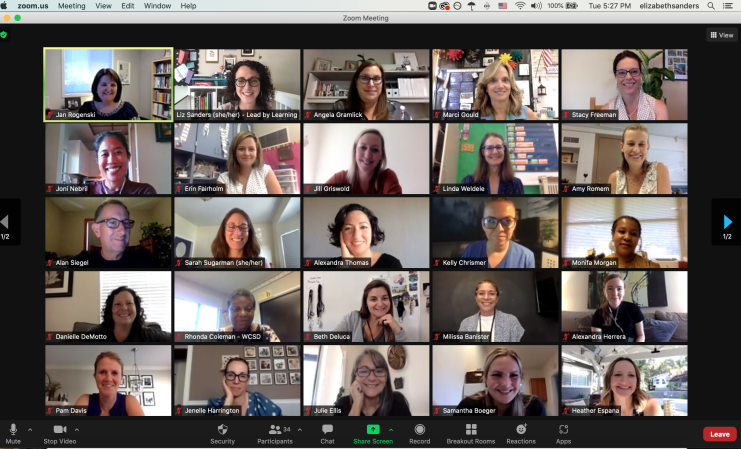 What does being a Teacher Leader mean to you?
On February 8, Lead by Learning Teacher Leaders from across our partner sites met over Zoom for our Spring Teacher Leader Network. Asked why being a teacher leadership matters to them, our educators shared:
"Allows me to foster a sense of trust and vulnerability with my teaching community."

"Gives me a chance to develop my leadership skills with honest and useful feedback!"

"Allows me to get insight on the practices, inquiries, challenges, and successes educators face throughout the school year."

"Allows me to build connections with my school community. The more connected we are the better we can support our students."
The role of a Teacher Leader is invaluable to a school community. These practitioners not only are in their classrooms caring for their students' learning, but are also in the halls and before and after school caring for their colleagues' learning to support students. Wearing both the teacher and leader hat at times can feel lonely and isolating which is why, we at Lead by Learning, place our teacher leaders at the center. 
Twice a year, through Lead by Learning's Teacher Leader Network we bring our teacher leaders together from across the country to convene, partner, and learn from and with one another. Through these sessions, we not only aim to cultivate belonging amongst teacher leaders but create sense making spaces for teacher leaders to bring dilemmas and uncertainties to the table and leave with next steps and new ideas to support their colleagues and schools. 
When I'm in community with other teacher leaders, our leaders share:
"I can grow my skills as a leader."

"I feel empowered and inspired!"

"I feel we are working towards a common goal of supporting our students' needs as best as we can by doing this work."

"I can see evidence of a greater systemic impact, something I lack the perspective to see when isolated at my site in my classroom."

"I feel like I'm with a group that understands my experience and are willing to share theirs!"

"I feel energized, validated and motivated to continue."

"I can learn about practices and perspectives that are new to me and reflect on my own, serving students and their identities to the greatest of our ability"
We believe in the power of cultivating teacher leader communities. But don't just take our word for it.
The 2021-2022 Teacher Leader Network is composed of 140 teacher leaders across 13 schools and 6 districts. They collectively support the learning of 500+ teachers who in turn adapt their practice for the benefit of thousands of students.