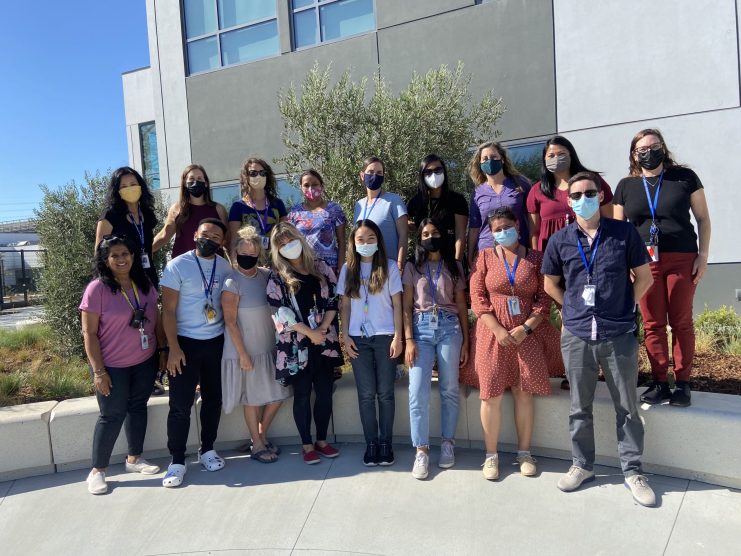 "It is Okay to Struggle; It is Okay to Try"
Opening its doors for the first time to students in August 2021, brand new Santa Clara Unified School District elementary school, Abram Agnew, is partnering with Lead by Learning to create a safe and brave space for their educators to learn. 
At their first session, founding principal Shehnaz Wadhwania, shared with her educators why creating a space an adult learning space was a top priority for her in designing the school. "It is ok to struggle, it is ok to try," Shehnaz shared with her founding staff. "I know you all are perfectionists and that is why I hired you, and I want you to have a space to let that go and try new things."
Teachers were invited to open up their notebooks and begin thinking about what area of students' learning in their classrooms they were most curious to explore through inquiry. Educators are focusing their inquiries on the integration between social emotional learning, SEL, and academics, a school goal this year. Pens raced across paper as teachers engaged thoughtfully in their "Think Alone" followed by their first taste of Public Learning in dyads.
Lead by Learning is honored to work with Abram Agnew Elementary School during their inaugural year and look forward to seeing each teacher's inquiry unfold. Below is a taste of what some teachers are exploring as of now:
Inquiry focus
How do we support students in listening, adding on, & questions during conversations? 
How do self-management competencies relate to successful classroom routines regarding centers/small group work?

How do we increase and support students' capacity for self-awareness? 
Learning goal
Students will be able to identify and verbalize feelings and needs.
Students build agency and self awareness by understanding the purpose of assessments & conducting self-assessments to regulate. 

Students will be able to self-manage and make good choices as they collaborate and experiment with new things. 
Data sources
Journaling, video/audio recording, observation during partner work, students explaining strategies (verbally)