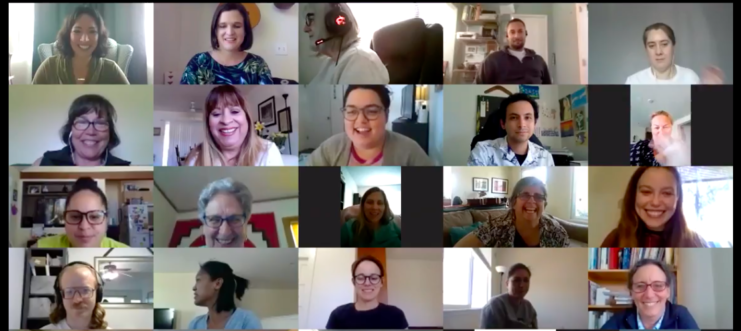 Learning From Our Virtual Program Work
From learning to facilitate a webinar to understanding the intricacies of Zoom breakout rooms, our small team at Mills Teacher Scholars, like so many others around the globe, has experienced a steep learning curve over the past month. While our learning continues to unfold, we wanted to capture some of what is becoming clear to us in facilitating distance learning spaces for adults. At the center is acknowledging the social and emotional foundations of learning.
1. Start and end with connecting people as individuals and in community.
Have people wave and smile at each other in gallery view. Have people write down one word representing something that is giving them strength right now, and hold their words up to their screens simultaneously. Put people into small groups and invite them to each take a minute or two to respond to the prompt, "What's new with you?" At the end of the meeting, invite people to use the chat box to share an appreciation or celebration of working together as colleagues.
2. Acknowledge the strengths that people are coming in with. Give them a chance to articulate how those strengths can inform their approach to distance learning. 
While the shelter in place necessitates a new kind of teaching, it does not cancel out the personal and professional strengths that educators have built over their careers. Invite people to reflect on one of their strengths as a teacher or leader, and how they are drawing – or can draw – on that strength now. Ask them to reflect on some strengths that their learners were demonstrating before the shelter in place, and to come up with some small, do-able next steps to leverage those strengths in a distance learning setting.
3. Create opportunities to empathize with individual learners in order to better understand the next steps that could improve the learning experience of many.
Invite people to reflect on a particular teacher, student, or family. What is currently happening for that person compared with what would ideally be happening? What small moments of success or progress have occurred with that learner so far? Help people to flesh out what led to that progress, to name the elements of that small success, so that they can apply a similar logic to other learners who may need similar support.
4. Offer metacognitive pauses for people to reflect on how their own experience in this distance learning space can inform the design of distance learning spaces they are facilitating for others.
Ask people to notice, what worked for you today and why? What is one activity you experienced today that you might be able to adapt for the learners you support?
What are you learning about what is most important in this unusual time? How will you carry this learning forward when we go back into our workplaces?