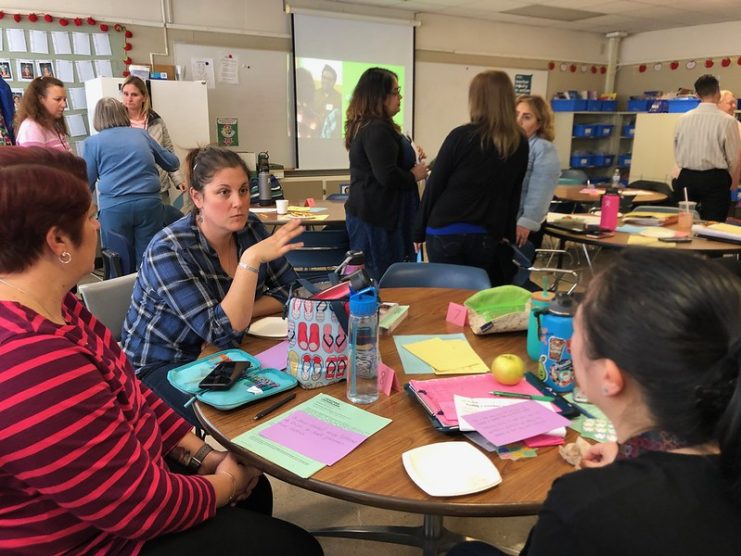 The Courage to Have Conversations That Matter
"Be brave enough to start a conversation that matters."
-Margaret Wheatley
"Dive with us into  a puzzle."
This was the invitation extended at our Teacher Leader Network convening at the end of October to our network of teacher leaders, who help us design and facilitate inquiry-based professional learning. Years of self-reflection data from our teacher scholars has told us that it is difficult to "supportively challenge" colleagues to deepen their thinking about their teaching practice. Our teacher scholars from a broad array of districts  have, year after year, expressed that it is difficult to ask a colleague probing questions about the purpose of an activity; to make observations that help that colleague shift from deficit- to asset-based thinking about a student; or to know what to say that will help a colleague get clear on their learning goals for students. Yet, at Mills Teacher Scholars we know that such moments of supportive challenge are a key component of transforming educators' professional learning spaces into the engines that drive progress toward equitable outcomes for students. Teachers build the self-awareness that leads to lasting change in their practice through conversations that honor their social and emotional competencies while helping them clarify both their goals for student learning  and understand what is happening for individual learners. 
We designed our October Teacher Leader Network convening to enable and inspire our teacher leaders to support their site colleagues to increase their effectiveness during moments of supportive challenge. The experience of one group of teacher leaders from SLZUSD's Lorenzo Manor Elementary – Deja Escalera, Justin McJilton, Rosemarie Sandoval, and Ashley Thomsak – points to the power of supporting teachers to lead their colleagues' learning in this way.
At the Teacher Leader Network convening, Deja, Justin, Rosie, and Ashley engaged in a series of learning activities along with the rest of the Network that deepened their understanding of the power of supportive challenge. Through a video example and a scenario they unpacked what it means, and what it takes, to participate in learning conversations that supportively challenge colleagues' to deepen their awareness of their effectiveness as teachers. Afterward, they were able to be extra intentional in designing and facilitating the whole-staff inquiry session at their site the following week. 
At the inquiry session with their site colleagues, Deja and Rosie modeled a conversation focused on Deja's writing conferences, during which Rosie used a few key probing questions to supportively challenge Deja to understand her students' needs as well as a next step:
Deja: So one thing I need help thinking about is – how do I encourage my writers to think past their first typed draft?
Rosie: What strengths do you see in the data? 
D: My students are able to make goals.
R: What is not yet there? 
D: Not all my students are able to both make goals AND revise their writing based on those goals and checklists.
R: When you conference with these students, what could you tell them? 
D: I could tell them… "When you looked at your writing, what was something you noticed could be revised?"
Afterward, Rosie heard from more than one colleague how impactful the modeling was for them. One teacher said, "I never would have thought to ask Deja that question," referring to the question about what Deja might say to her students. Building on her colleagues' observations, Rosie shared with the staff,
"What was powerful for me was I wasn't telling Deja what she needed to do. I was helping her get to her next steps on her own by validating that I heard what she was saying and asking her 'What do you think you would do next?' rather than 'I think that you should…' It empowered Deja to think about what she would do next in her classroom for her students."
Deja, Rosie, Justin, and Ashley wanted to leverage their colleagues' growing awareness of the power of supportive challenge. At their next inquiry session, they facilitated one of the activities they had experienced at the Teacher Leader Network meeting, using a scenario of a learning conversation to help their colleagues practice the mindsets and skills involved in supportively challenging each other with probing questions similar to how Rosie had supported Deja. They also invited their colleagues to reflect on what is different about this particular listening stance, and why it is a powerful tool for change.
The work at Lorenzo Manor, as at all of our partner sites, is still in progress. While most teachers at Lorenzo Manor now have a deeper awareness of the power of supportively challenging each others' thinking during learning conversations, not all teachers feel that they can  successfully step into that role. Deja, Rosie, Justin, and Ashley plan to continue to offer their colleagues learning experiences that encourage them to practice this skill. In the meantime, we at Mills Teacher Scholars will continue to offer our teacher leaders learning experiences that support them to lead such transformational learning for their colleagues at their sites, with the goal of transforming outcomes for their students.