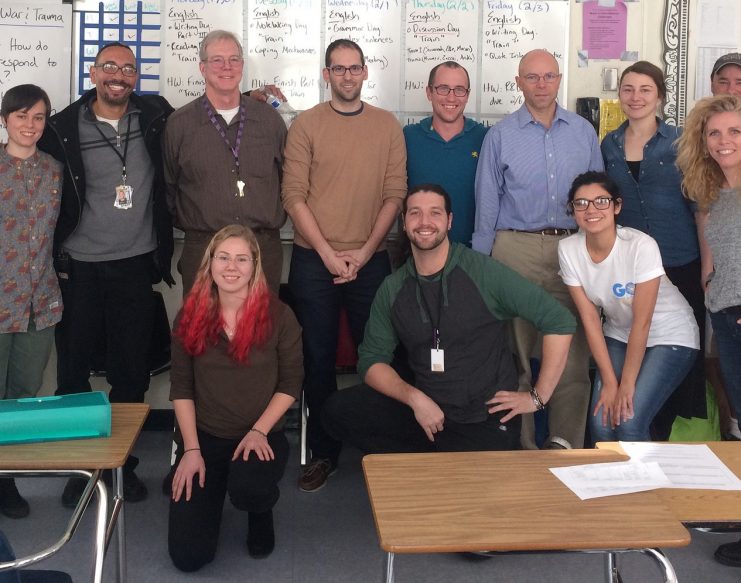 Unlocking Uncertainties at Oakland Tech
At Oakland Tech High School, 17 ninth-grade teachers are wrapping up their first year of collaborative inquiry work with Mills Teacher Scholars. Comprised of both new and veteran teachers, this cross-disciplinary group met monthly to investigate questions and dilemmas in their teaching. Over the course of the year, they worked together to understand the particular learning needs of their focal students. They analyzed their teaching through looking at students' work, they crafted new lessons, and they adapted classroom structures to support students' learning. In addition to improving teaching for their students, they created a collective sense of safety for each other in which to explore the discomforts of ongoing uncertainty.
Teaching is filled with uncertainties. Even as the Oakland Tech ninth-grade team gained a deeper understanding of the most transferable skills for their students, they also held uncertainties about how to best teach these skills to their students. As they reflected on classroom data showing them how their students built on peers' ideas in discussions, wrote multi-draft essays, and analyzed literature for its relevance to their lives, the teachers had to feel comfortable revealing what they did not yet know about their students' understandings. They had to voice complicated questions about how to best improve their students' learning. Rather than banishing these wonderings to the confines of their classrooms, they surfaced them in conversations with their colleagues.
At each monthly meeting the teachers had time to think alone, to look at their students' work, and then to pose questions to each other in small group discussions. These discussions proved powerful in pushing each other to consider how their practice could be improved. The Oakland Tech ninth-grade team helped each other notice things about student work that they had not seen on their own, and to dig into questions such as:
"How do I really know what I'm looking for in historical analysis writing?"
"Why am I asking students to use journals? What do I expect them to do with them?"
"Why is this type of writing so important to students' success?"
Sharing and discussing their uncertainties helped the teachers support each other in understanding how to make instructional changes to support their students' learning. Successes that resulted from these collaborative conversations included:
A veteran Science teacher introduced new scaffolds to support his students' writing. He credits his numerous discussions with Humanities teachers to this growth in his ability to teach writing, and sees marked improvement in his students' written work as a result.

Two first-year teachers shared their challenges around planning and pacing with veteran colleagues, who maintained an encouraging and safe space for them to articulate their struggles. The new teachers articulated the tension between covering the breadth of what they are expected to teach and going deeper into areas of higher engagement with students. One veteran teacher described how pacing is tied to planning units and school years, which is understandably difficult to manage in the first year of teaching. A new teacher realized that planning can change his teaching week to week: the more prepared he feels, the more likely he is to try out different strategies for communicating content.  

Realizing that they had similar inquiries, two Humanities teachers furthered their collaboration by investigating what makes good historical analysis in writing. They decided to co-construct scaffolded, smaller writing tasks, which proved successful in both classrooms in improving student understanding.  
At Oakland Tech, inquiry sharing and collaboration are coming to life for teachers. Uncertainty is the bridge to new ideas and new outcomes for students, informing teachers' classrooms in a serious way.