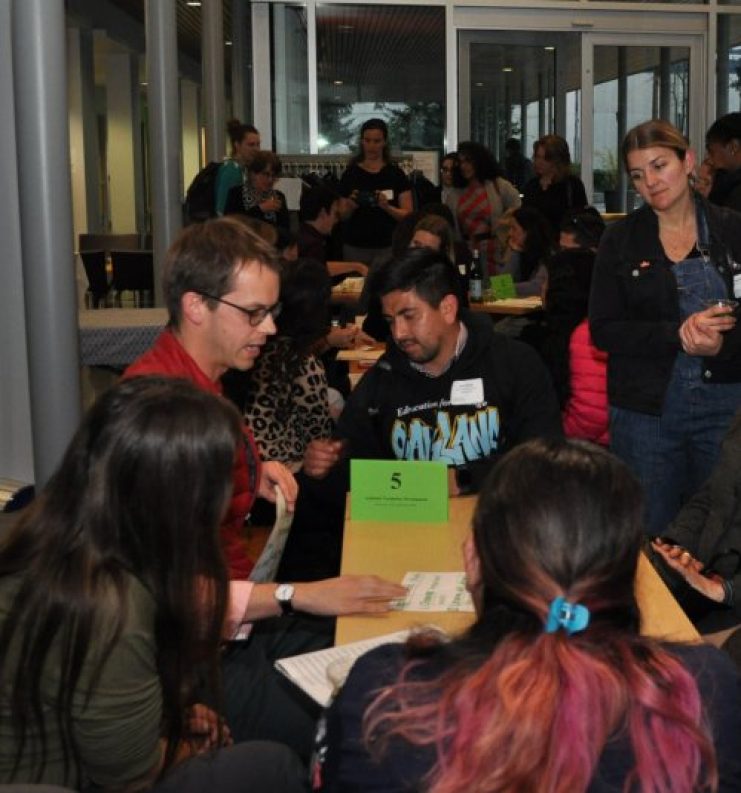 Recorded Webinar: 2020 Inquiry in Action Forum
To support public health efforts to slow the spread of COVID-19, our Inquiry in Action Forum occurred online on March 26th from 5:30-6:30pm as an inspiring webinar led by teachers and leaders who are shifting the adult learning cultures in their schools and districts. In addition to our webinar, we published the work of all of our presenters in our Teacher Scholar Voices blog.
Here are our webinar presenters:
Katherine Acosta-Verprauskus, Principal, WCCUSD. "My Leadership Journey: Partnering with Teachers to Build a Transformative Culture of Adult Learning"
Martinique Perry and Beth Levine, Inquiry Teacher Leaders, WCCUSD. "Shifting Teacher Mindsets and Practices for Equitable Student Outcomes"
Dr. Anne Shin, Executive Director of College and Career Readiness/Post-Secondary, WCCUSD. "Creating a Community of Practice that Inspires and Sustains Instructional Leaders"
Sheila SatheWarner, Teacher on Special Assignment for Literacy and English Language Development, AUSD. "Supporting English Language Development Integration through Teacher Inquiry"
These presentations will be followed by questions and discussion. We hope you'll choose to celebrate learning with us in this alternative format as we adapt to these unusual times!
Read presenters' blog posts on our blog!
Deepening Reading Engagement to Support Confidence in Problem Solving
Sonia Spindt, Computer Science Teacher, Oakland Unified
Leveraging Students' Social and Emotional Competencies to Improve Writing Partnerships
Natalie Williford, 3rd Grade Teacher, Oakland Unified
Improving Program Quality by Shifting from Compliance to Curiosity 
Martha Pena, Expanded Learning Coordinator, Oakland Unified
Building a Practice of Meaningful Turn-and-Talks
Tonie Mitchell, Kindergarten Teacher, San Lorenzo Unified
Cultivating a Culture of Curiosity in Service of Equity in Professional Learning Communities 
Niesha Johnson and Meghan Shaughnessy, 3rd and 2nd Grade Teachers, Oakland Unified
Deepening Teachers' Supportive Listening Skills to Improve Adult Learning
Malia Tayabas-Kim, 2nd Grade Teacher, Oakland Unified
Exploring the Intersection of Social Emotional Learning and Writing 
Susannah Young, 2nd Grade Teacher, Oakland Unified
Navigating the Tensions in Sustaining Teacher-led Professional Learning
Erika Montes and Dawn Herrieras, Inquiry Teacher Leaders, San Lorenzo Unified
Creating Feedback Structures that Deepen Teacher Reflection and Learning
Jessica Petrilli, Principal, West Contra Costa Unified
A Music Department's Seven-year Journey with Teacher-led Inquiry
Pete Gidlund, Visual and Performing Arts Supervisor, Berkeley Unified
Building Coherence Around a Schoolwide Vision for Change
Mutasim Yassin, Instructional Team Lead, Oakland Unified
Supporting Adult SEL in Service of Student Learning
Sonny Kim, Program Manager, Social and Emotional Learning & Leadership, Oakland Unified
Deepening Teachers' Purposeful Use of Data to Drive Instruction
Tammie Adams, Principal, Oakland Unified
Building Teacher Collaboration in a Music Department to Inspire Students to Learn Music
Karen Wells, Music Teacher, Berkeley Unified
Encouraging Newcomer Student Participation in Book Discussions
Vivian Yen, 4th Grade Teacher, Oakland Unified
Supporting Newcomer Student Independence in Writing
Emma Tadlock-Goldsmith, 2nd Grade Teacher, Oakland Unified
Supporting Equity of Voice in Partner Conversations
Lydia Martinez, Literacy and English Language Development Specialist, Alameda Unified