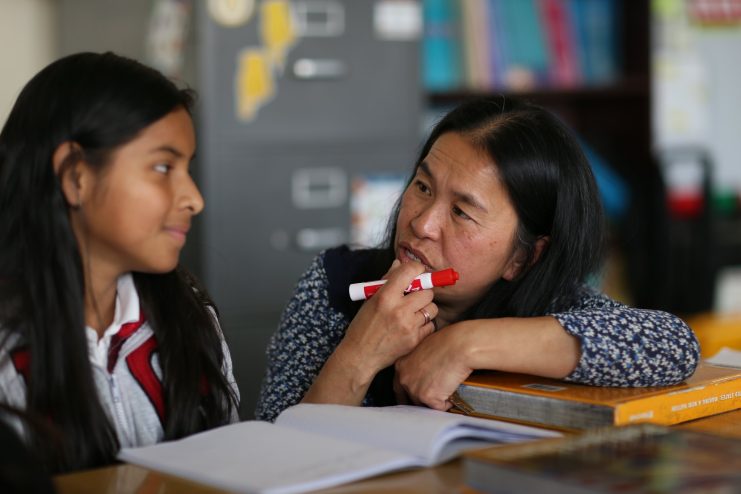 End of Year Letter from our Executive Director, Mizgon Zahir Darby
Dear Lead by Learning Community,
As we wind down 2021 it becomes clear that we have once again lived through a historic year. You, as our educators, have worked tireless through the pandemics of COVID-19 and Racism, and the horrors of observing the Haitian and Afghan Refugee crisis's.
I am the daughter of Afghan refugees who left Afghanistan during the Soviet Invasion. A brown girl who was born and raised experiencing poverty in Hayward surrounded by other Afghans afraid to break away from culture and customs with which I did not agree, and afraid to practice the culture and customs brought to America by my family. It was the educators in my life that showed me possibilities and fostered my ambitions. It was these same educators that helped me form fear into courage and navigate the discomfort of challenging my beliefs.
This year, each of you have stood courageously for what is right for your community, colleagues, and students. You have taken on difficult conversations and created space to listen, hear, and learn. You have challenged your own assumptions and allowed yourself space to ask questions.
In her book, Turning to One Another: Simple Conversations to Restore Hope to the Future, author Margaret J. Wheatley states:
As we work together to restore hope to the future, we need to include a new and strange ally—our willingness to be disturbed. Our willingness to have our beliefs and ideas challenged by what others think. No one person or perspective can give us the answers we need to the problems of today. Paradoxically, we can only find those answers by admitting we don't know. We have to be willing to let go of our certainty and expect ourselves to be confused for a time
As a new Executive Director at Lead by Learning, I have had time to hear you admitting that you don't know, and moving into what Wheatley notes as a space most of us were not taught to navigate. According to Wheatley:
We weren't trained to admit we don't know. Most of us were taught to sound certain and confident, to state our opinion as if it were true. We haven't been rewarded for being confused. Or for asking more questions rather than giving quick answers. We've also spent many years listening to others mainly to determine whether we agree with them or not. We don't have time or interest to sit and listen to those who think differently than we do.
One promise I will always make you is that as Lead by Learning, a program of the School of Education at Mills College, we will stand by you unapologetically, just as educators stood by me through my academic career, and remain in solidarity with you as you listen to those who think differently than we do.
As a young girl, my father would read me Rumi (whom we know as Maulana Jalaludine of Balkh, Afghanistan in the East). One of his quotes has lived in my heart this year, "Although the road is never ending, take a step and keep walking, do not look fearfully into the distance … On this path let the heart be your guide for the body is hesitant and full of fear."
As we begin to think of our New Year, I hope you will consider supporting our work, and know that we support you.
Respectfully,
Mizgon Zahir Darby