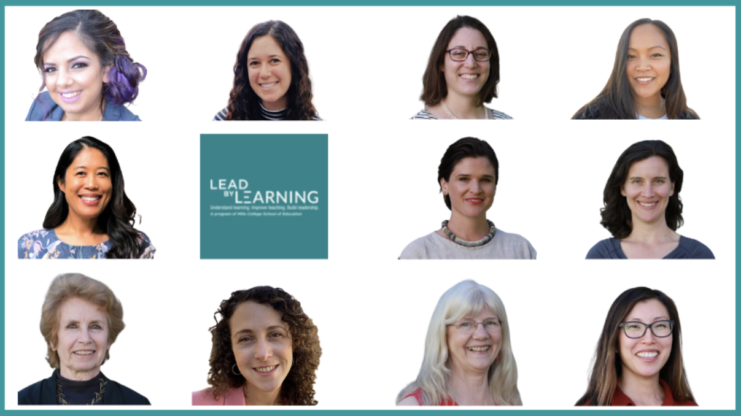 Lead by Learning is Hiring: Lead Program Facilitator
Lead by Learning is hiring for a Lead Program Facilitator.
See below for our Job Description. Interested in applying? Apply with Mills College. Questions? Please email info-leadbylearning@northeastern.edu.
---
Position Title: Lead by Learning,  Lead Program Facilitator
Job status: Full-time (open to part time), Exempt
Organizational Relationships:
Reports to: Lead by Learning Executive Director       
Summary of Position
Lead by Learning is a learning program of the Mills College School of Education that creates the conditions for collaborative, educator-led inquiry to support leaders, teachers, and coaches across Bay Area districts and schools. Lead by Learning provides educators with a framework within which they can formally conduct inquiry about their learners' experiences and the efficacy of their practices. This work is done across systems, creating communities of educators who together hone their understanding of student and adult learning in order to deepen their learning culture and continuously improve outcomes for students.
Lead by Learning is seeking qualified program facilitators to facilitate in-field communities of practice for school and district leaders and support courses offered by Lead by Learning. Screening of applicants begins immediately and applicants will be invited for an interview.
Lead by Learning is a project of the Mills College School of Education, and is fiscally sponsored by Mills College.
The Lead Program Facilitator will:
Co-design and facilitate multiple communities of practice supporting educator-led inquiry to improve student learning outcomes

Co-develop and utilize Lead by Learning protocols for best-practices in professional inquiry

Use a variety of data to analyze effectiveness of program work and to guide the design and facilitation of communities of practice

Experience engaging in conversations about race and equity

Have continuous improvement growth mindset

Meet monthly with principals or central office administrators to provide leadership coaching

Provide monthly in-person inquiry-based coaching to teachers

Work with principals and district leaders to move contract work forward from one year to the next

Utilize digital tools to document and support inquiry work

Support data collection through video and audio recording, observational note taking, conducting focal student interviews, etc.

Prepare quarterly data-driven reports on educator learning and student learning goals

Employee may need to perform light lifting occasionally

Requires availability two Saturdays and six evenings a year (dates provided well in advance), dependable car a must

Maintain effective and productive working relationships within a diverse and multicultural environment

Provide effective and personal customer service attitude toward colleagues, teachers, principals, board members, and grant-makers, as well as other constituents

Maintain safe work conditions and comply with established safety policies, practices, procedures, and requirements of Mills College

Perform related duties as needed
Requirements:
Minimum Requirements:
Master's degree

Minimum of 3 years of teaching experience in urban school environment

Experience mentoring teachers and/or participating in a learning community

Experience engaging in professional inquiry work

Interest in adult learning

Dynamic facilitation and communication skills

Sense of humility and openness to multiple approaches

Excellent listening skills for coaching

Content area expertise

Have a mature sense of responsibility, including the ability to work independently, to manage time effectively, to be self-motivated, to be detail-oriented

Be comfortable working in a shared office space, with minimal direct supervision

Have confidence to work with program staff to develop protocols for best practices for teacher inquiry work

Comfort with Google Suite and willingness to explore a range of digital platforms

Be flexible to grow into additional tasks as program matures

Ability to travel to multiple school sites and Mills College
Preferred Qualifications:
At least 3 years of experience leading a school site as a principal, vice principal, or assistant principal
Additional Information:
This is an exempt, full-time position (open to consider part time). Compensation is commensurate with experience and includes an excellent benefits package including medical/dental/vision/life/LTD insurance, 10 prorated days of vacation for year one, 15 prorated days of vacation for years 2-10, and 22 prorated days of vacation years 10+ plus, 12 prorated sick days and 17 prorated paid holidays (subject to annual review). Staff members also receive free admission to campus events, use of the pool, fitness center, and tennis courts. Tuition remission is also available after an introductory period. Voluntary benefits include: 403(b) retirement plan, pet insurance, long-term care insurance and legal-assistance insurance.  
Mills College does not permit discrimination based on pregnancy, childbirth or related medical conditions, race, religious creed, color, national origin or ancestry, physical or mental disability, medical condition, marital status, age, sex, sexual orientation, or gender identity. For more information on Mills' non-discrimination policy, please go to: https://inside.mills.edu/administration/administrative_offices/policies/nondiscrimination.php.
All positions are subject to a background check. Prior to the first date of employment, an applicant's background check must be cleared.
​​This position is grant-funded and grant employees are designated as either regular or temporary employees at the time of hire, depending on the terms of the grant that controls their job duties. During their employment at Mills, grant employees are subject to the job performance, work, and conduct rules that apply to all employees under this Handbook. Without exception, each grant employee has no expectation of continued employment at Mills beyond the term of the grant under which she/he was hired.  This grant position is considered a temporary position with Mills College and with an end date no later than June 30, 2022; at that time a Northeastern University and Mills College merger will occur.
Application Instructions:
To apply, please submit:
resume

cover letter and

contact information for three professional references
Applications are reviewed on a rolling basis and positions filled as needed.